COVID 19 INFORMATION
Monday 19 September
If you need assistance with food, finances, hardpacks, devices or support with your mental health, please click on the link above for more information.
Wednesday 18 August
With New Zealand back in Level 4, schools are now closed and we have been advised that even the children of essentials workers are to remain at home.
We are working to get online learning back up and running and we will be using the adapted timetable as in previous lockdowns.
Please see below for details. Please note: we will be starting at 9am tomorrow morning, 10 minutes later than on the schedule below.
Unfortunately, we are not able to access school to be able to hand out hard packs of work, but if students are not able to participate in the online learning sessions, the TVNZ Education channel will be providing school work. See https://www.tvnz.co.nz/shows/home-learning-tv/about for more information.
Some reminders about Online Etiquette:
1) Have your camera on during the google meet, if you can, and look into it.
2) Mute yourself when not speaking - mute yourself ahead of joining
3) Be on time
4) Wear appropriate clothing
5) Frame the camera - have an appropriate background
6) Have the right light
7) Pay attention. Keep chat comments related to the task in hand.
8) Ensure technology works - try it out before the google meet
9) Don't try to speak over the top of someone else - use the chat box.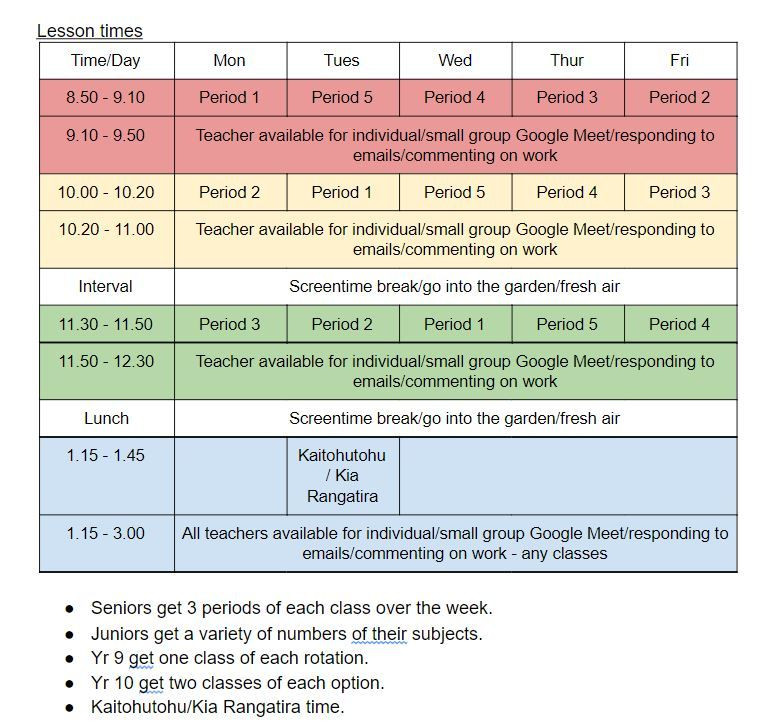 Teachers will be sending out google meet codes for their classes so please check your school emails.
Teachers will be available at the start of each lesson as per the above timetable for 20 minutes of teaching.
Students will then continue to work on their own with teachers available to respond to questions, queries etc.
Kaihotuhotu time will be held on a Tuesday only.
Friday 5 March
From Monday 8 March we are back at Covid Alert Level 2 so school will be open again for all students.
The normal school timetable will apply but there will no assemblies or whanau time.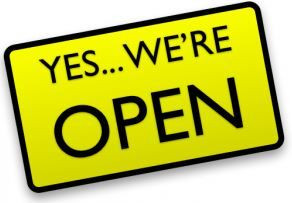 Sunday 28 February
With Auckland back at Covid Alert Level 3 for at least 7 days, we will be commencing with online learning from tomorrow morning, Monday 1 March at 9am.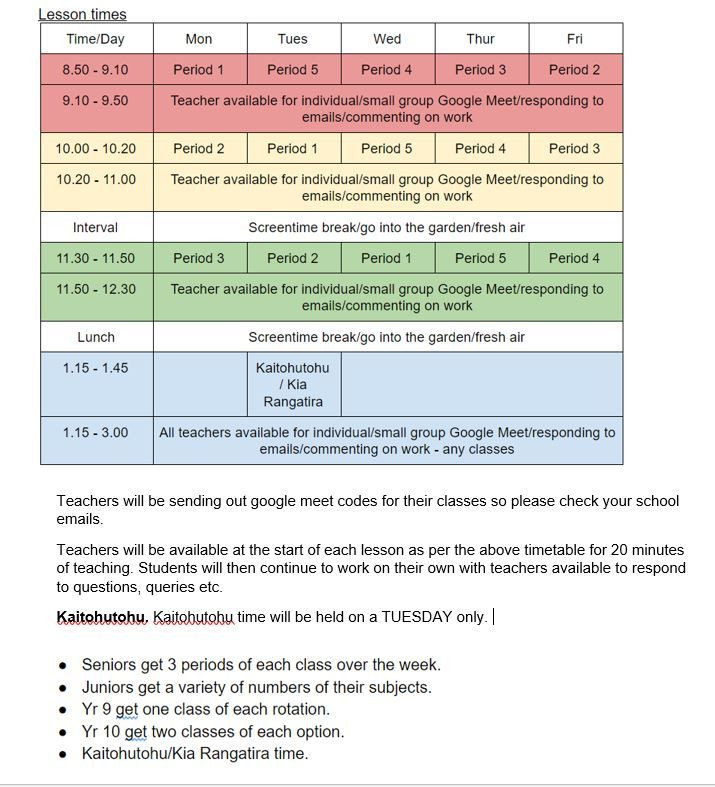 Thursday 18 February
Newsletter home to students: Auckland moving to Alert Level 2
Wednesday 17 February
With the announcement from Jacinda Ardern that Auckland will be moving to Alert Level 2 from midnight tonight, school will be reopening again tomorrow.
Please see below a message from Simon Craggs, Principal.
Letter re school reopening tomorrow
Wednesday 17 February
Dear parents and caregivers
We are waiting on further information from the government that will be released at 4:30pm this afternoon before we know whether school will be reopening tomorrow or online learning will commence. At Papakura High School we are well-prepared for both eventualities.
Soon after this information is confirmed we will post more information. We thank you for your patience at this uncertain time.
Tuesday 16 February
The Ministry of Education has links to a range of teaching and learning resources and guidance that can be found here for English medium and here for Māori medium.
Home Learning TV can be accessed on demand here or via the TVNZ App on a device (mobile phone, smart tv or tablet). Mauri Reo Mauri Ora is also available on demand from Māori TV for primary aged tamariki and here for secondary school rangatahi.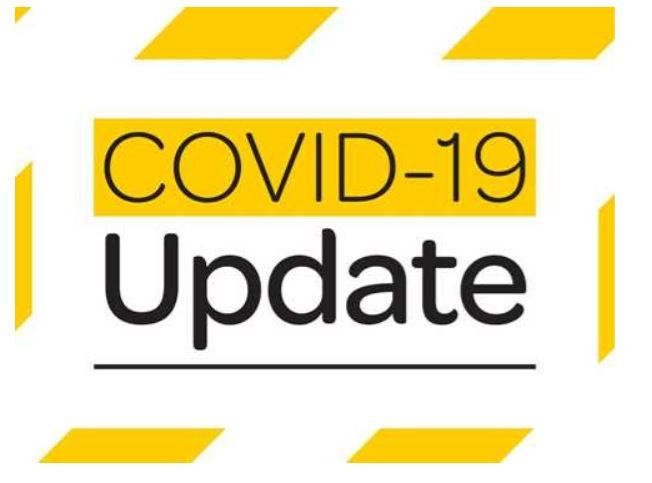 Sunday 14 February 2021 - Covid Alert Level 3
Tēnā koutou katoa, Malo e lelei, Talofa lava, Fakaalofa lahi atu, Kia orana, Namaste
Dear Parents and Caregivers

As I am sure you will be aware there have been three confirmed cases of COVID-19 in South Auckland. As a result, the Government announced at 7pm that the whole of Auckland will move from Alert Level 1 to Alert Level 3 for the next 72 hours from midnight tonight.
That means that where possible you should keep your children home from school for this period. If you have no other option to care for them, and your child is in Year 9 or 10, then we will be open for you to send your children to school and we will have safety precautions in place to look after them.
Due to the initial short period of time of the lockdown we will not initially be rolling out our entire distance learning programme but our staff will be preparing for an extension of this period should it occur. In addition you can expect your rangatahi's Kaitohutohu will be in touch with you to check on how we can support your whānau in preparing for distance learning.
We will continue to provide updates as more information arises and we encourage you to keep checking this section of our website for the latest updates on our plans.
Kia kaha whānau. We are all praying that this lockdown will only be for a short time and that we will soon be able to welcome our young people back to school.
He waka eke noa!
Simon Craggs
Tumuaki/Principal