Friday 5 March
From Monday 8 March we are back at Covid Alert Level 2 so school will be open again for all students.
The normal school timetable will apply but there will no assemblies or whanau time.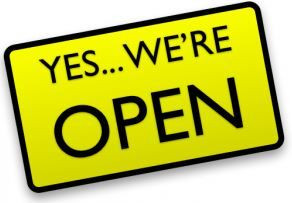 Sunday 28 February
With Auckland back at Covid Alert Level 3 for at least 7 days, we will be commencing with online learning from tomorrow morning, Monday 1 March at 9am.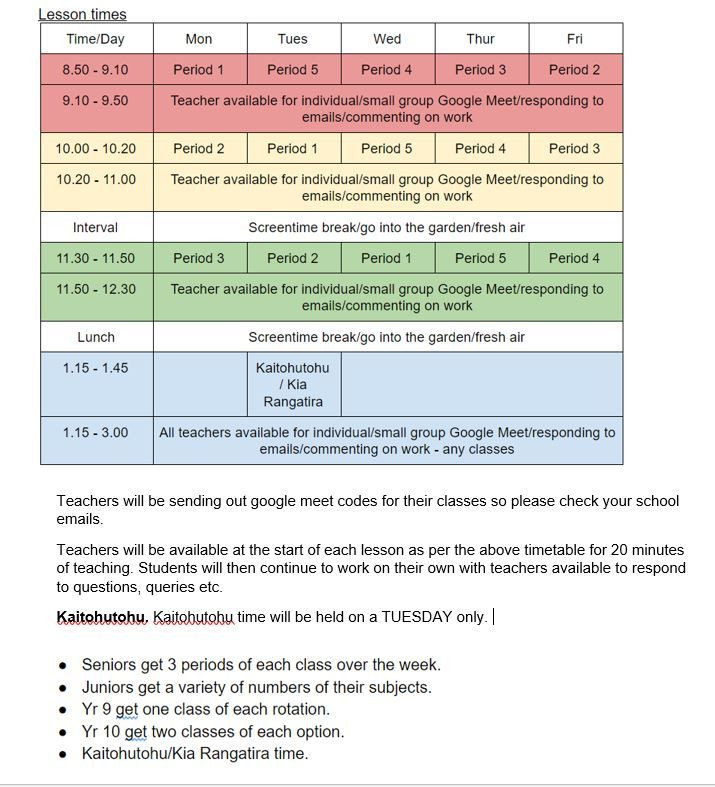 Thursday 18 February
Newsletter home to students: Auckland moving to Alert Level 2
Wednesday 17 February
With the announcement from Jacinda Ardern that Auckland will be moving to Alert Level 2 from midnight tonight, school will be reopening again tomorrow.
Please see below a message from Simon Craggs, Principal.
Letter re school reopening tomorrow
Wednesday 17 February
Dear parents and caregivers
We are waiting on further information from the government that will be released at 4:30pm this afternoon before we know whether school will be reopening tomorrow or online learning will commence. At Papakura High School we are well-prepared for both eventualities.
Soon after this information is confirmed we will post more information. We thank you for your patience at this uncertain time.
Tuesday 16 February
The Ministry of Education has links to a range of teaching and learning resources and guidance that can be found here for English medium and here for Māori medium.
Home Learning TV can be accessed on demand here or via the TVNZ App on a device (mobile phone, smart tv or tablet). Mauri Reo Mauri Ora is also available on demand from Māori TV for primary aged tamariki and here for secondary school rangatahi.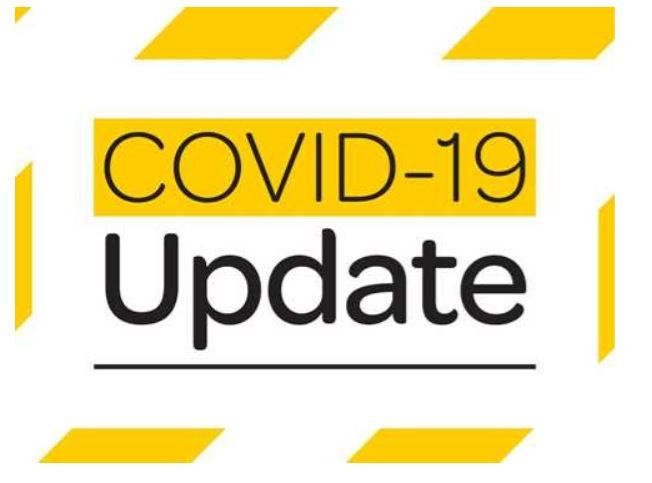 Sunday 14 February 2021 - Covid Alert Level 3
Tēnā koutou katoa, Malo e lelei, Talofa lava, Fakaalofa lahi atu, Kia orana, Namaste
Dear Parents and Caregivers

As I am sure you will be aware there have been three confirmed cases of COVID-19 in South Auckland. As a result, the Government announced at 7pm that the whole of Auckland will move from Alert Level 1 to Alert Level 3 for the next 72 hours from midnight tonight.
That means that where possible you should keep your children home from school for this period. If you have no other option to care for them, and your child is in Year 9 or 10, then we will be open for you to send your children to school and we will have safety precautions in place to look after them.
Due to the initial short period of time of the lockdown we will not initially be rolling out our entire distance learning programme but our staff will be preparing for an extension of this period should it occur. In addition you can expect your rangatahi's Kaitohutohu will be in touch with you to check on how we can support your whānau in preparing for distance learning.
We will continue to provide updates as more information arises and we encourage you to keep checking this section of our website for the latest updates on our plans.
Kia kaha whānau. We are all praying that this lockdown will only be for a short time and that we will soon be able to welcome our young people back to school.
He waka eke noa!
Simon Craggs
Tumuaki/Principal
Thursday 27 August - Covid Alert Level 2 - Back to school on Monday 31 August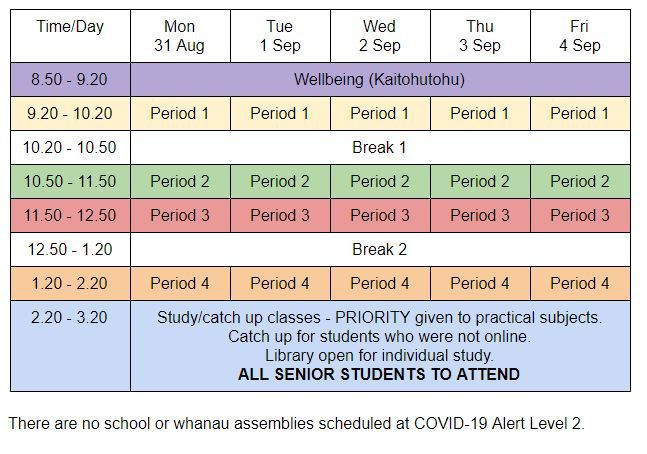 We will be using a modified timetable for the first week to ensure we prioritise the wellbeing of our students by having them go to Kaitohutohu at the start of every day. All senior students should utilise the time given in the afternoons to catch up on NCEA related work. Junior students are welcome to remain at school in quiet areas to partake in self directed study.
Saturday 15 August - Online teaching and learning to start again on Monday 17 August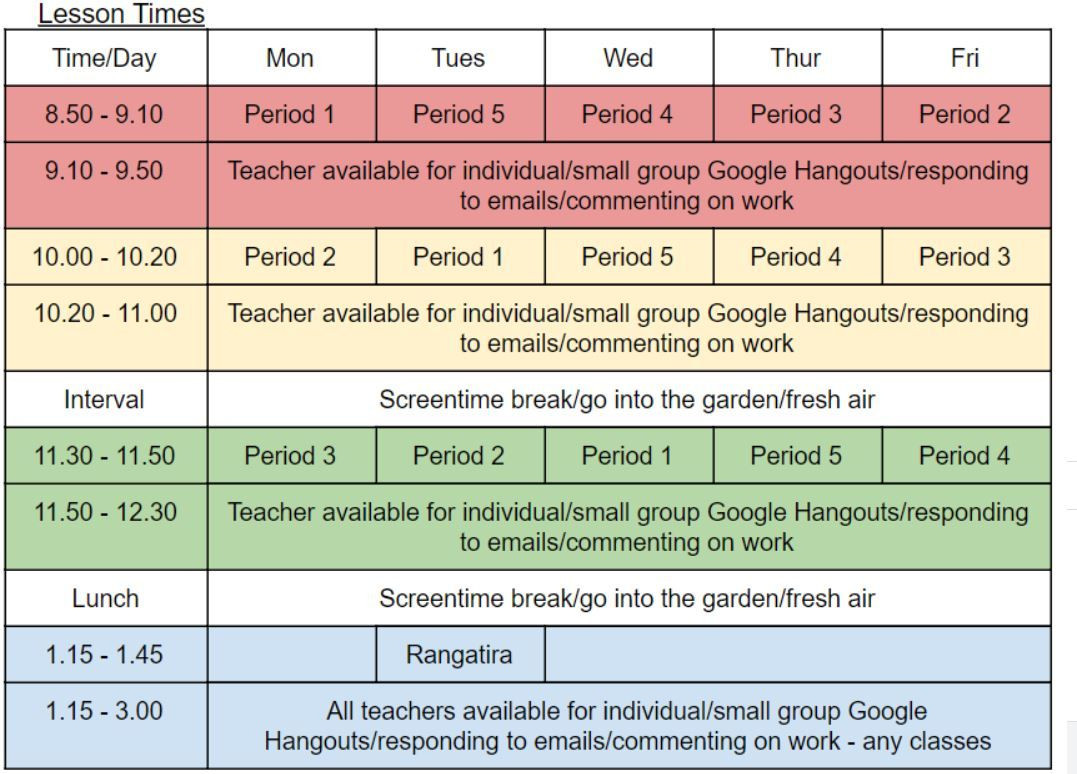 With the government announcement that Auckland is remaining at Alert Level 3 for the next two weeks, we will be starting with online learning from Monday (17 August).
The timetable for these on-line lessons will be the same as it was during the last lockdown period, three sessions of online teaching each day with teachers available to help and respond to questions at other times. (Please see picture for details)
Teachers will be sending google meet invitations to students from tomorrow for their classes, so students should check their school emails to make sure they can attend on-line classes.
As with a physical classroom, there is on-line class etiquette (behaviour guidelines).
These include:
1. Be on time.
2. Have your camera on during the meeting. Look into the camera. It's just like in class - the teacher can see your face there and wants to see them online.
3. Frame the camera.
4. Have the right light.
5. Mute yourself ahead of joining.
6. Mute yourself when not speaking -
7. Don't all speak at once.
8. Pay attention. Keep chat related comments to the task at hand.
9. Ensure technology works correctly - try it out before meeting.
10. Fully engage online. Ask questions.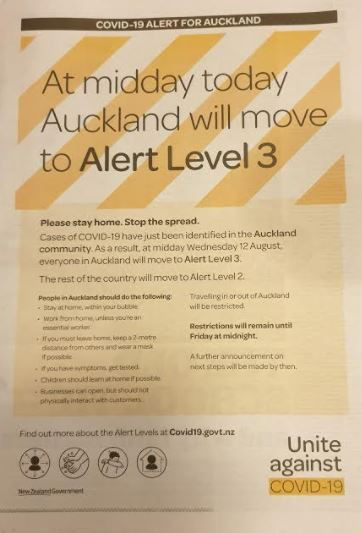 Wednesday 12 August - COVID-19 Alert Level 3
Most of you will by now be aware that there are four positive COVID-19 cases in Auckland. This means as of midday today, Wednesday 12th August, Auckland will move to Alert Level 3 until midnight Friday 14th August.

Under Alert Level 3 schools will be closed and we ask parents to keep their children at home from school for the remainder of the week.

However, there will be provision for students in Years 9 and 10 whose parents are essential workers if no alternative care arrangements can be made.
School will only be open from 9-12.

If you are an essential worker you must enrol your child to attend by texting, calling or e-mailing Kelly Teariki, Deputy Principal at [email protected] or 021 153 0102 . Please include your child's full name and year level and your essential role. This information will help us to establish safe in school bubbles to support the families of essential workers.
Wednesday 24 June - A message from our school nurses
An important message from our school nurses:
With winter here, any student who is unwell should stay home until their symptoms have gone.
When students are sick at school
If we have a sick student at school with an acute respiratory illness, including one or more COVID-19 symptoms - fever, cough, runny nose, sore throat, loss of smell or shortness of breath - they will be isolated in a separate room until they can be collected by a parent or caregiver. They will be asked if there is any known reason why they should have any of these symptoms, such as allergies, asthma etc.
Anyone who is sick with any or all of the COVID-19 symptoms (students or parents/caregivers) should ring Healthline on 0800 358 5453 or contact their GP or primary health service provider for advice on being assessed and tested.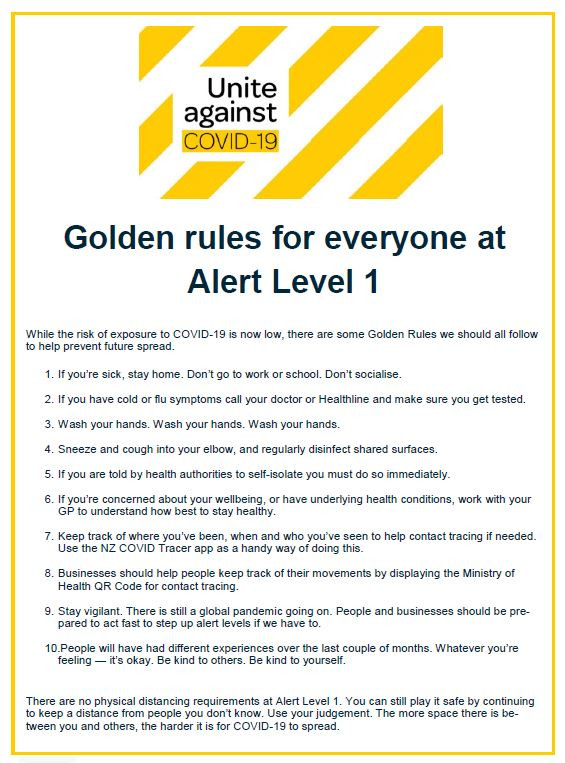 Tuesday 9 June - COVID-19 Alert Level 1
Dear parents and caregivers
New Zealand has now moved to COVID-19 Alert Level 1, which means that there are no restrictions on personal movement within New Zealand and no restrictions on numbers at gatherings or on physical activities including cultural and sporting activities, practices and events.
All students should now be back at school, except if they are sick.
Here at school we are displaying the QR code poster which, together with the NZ COVID Tracer app on your phone, can be used to track your movements, if necessary.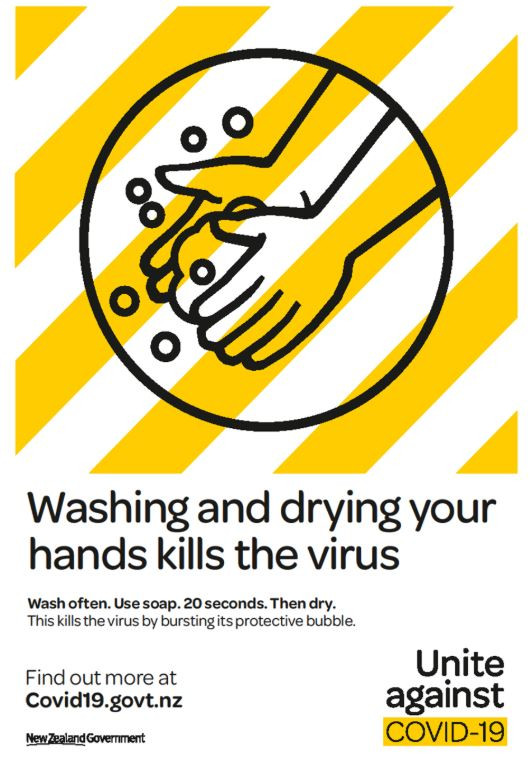 Thursday 4 June - NZQA update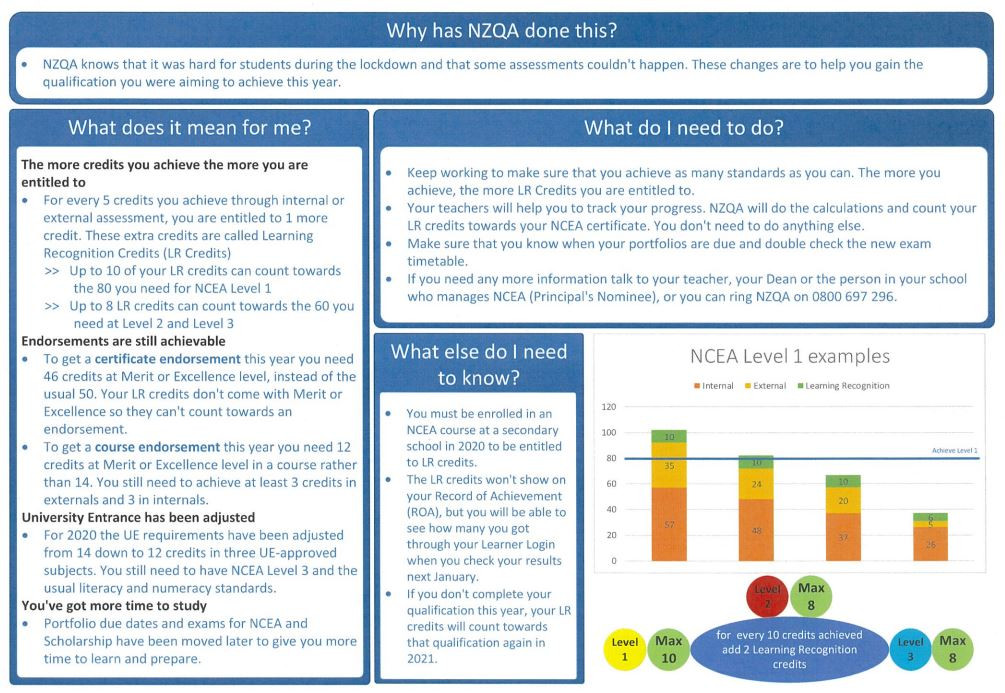 You may have already heard that NZQA has issued a statement regarding NCEA credits for this year.
* Learning Recognition Credits.
For every 5 credits that a student gains at Levels 1, 2 and 3, an additional Learning Recognition Credit will be added, for
Level 1 up to a maximum of 10 Learning Recognition Credits and for Levels 2 and 3 up to a maximum of 8 Learning
Recognition Credits.
* Endorsements
Course endorsements - students will be awarded course endorsement for achieving 12 credits at Merit or Excellence
instead of the usual 14.
Level/certificate endorsements - students will be awarded level endorsement for achieving 46 credits at Merit or Excellence
instead of the usual 50.
Please see the link below for more information.
https://www.nzqa.govt.nz/…/ncea-and-university-entrance-ch…/
Tuesday 2 June - From today we will be working with a revised timetable of 5 periods per day.
We received a lot of feedback from staff and students who have told us how much they like having a kaitohutohu time at the start of the day so this will continue 3 days a week on Mondays, Tuesdays and Fridays.
We will not be scheduling assemblies or whanau time until the start of term 3.
Please see below for detailed information of the new timetable.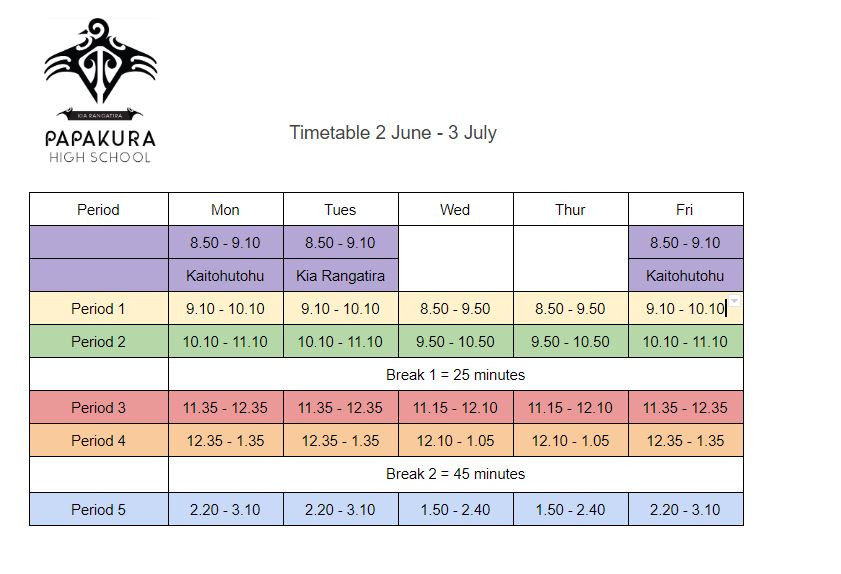 Friday 22 May - Most recent figures from the Ministry of Health showing numbers of cases of COVID-19 across New Zealand
New Zealand is experiencing very low numbers of Covid-19 as can be seen from the chart below.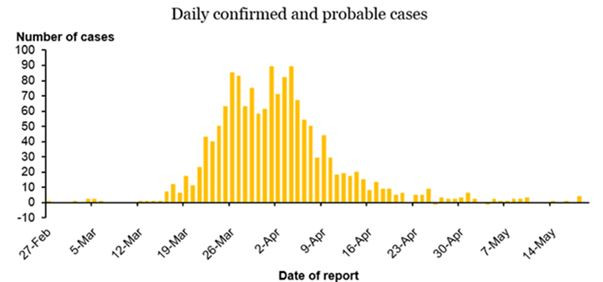 This next chart shows that children and young people continue to account for only a small proportion of cases in New Zealand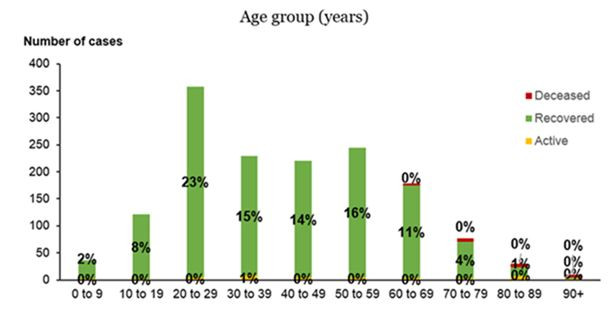 The following messages may also help to reassure you that we are doing everything possible to ensure our school is safe for students:
- Our school is safe. Even though there is such a low risk of the virus getting in the school gates to start with, we will be keeping up our hygiene practices and other public health measures as an extra precaution for as long as we're at Alert Level 2
- The return to school has gone really smoothly and it has been brilliant to see how excited the students have been to get back to their learning and social routines
- We know some of our whanau and families are still feeling a bit anxious about sending their children back to school, which is understandable given everything we have been through these past 2 months
- It's really important children do return to school, not just for their education but also their health and wellbeing
- Instances of Covid-19 in New Zealand are very low
- We're aware of concerns out there that people without symptoms may be able to spread the virus. The Ministry of Health has advised us that there is no instance in New Zealand of someone spreading the virus without ever having symptoms
Friday 22 May - All students are now back at school. Next week we will be continuing with the alternative timetable, please see below for more information.
Have a great weekend!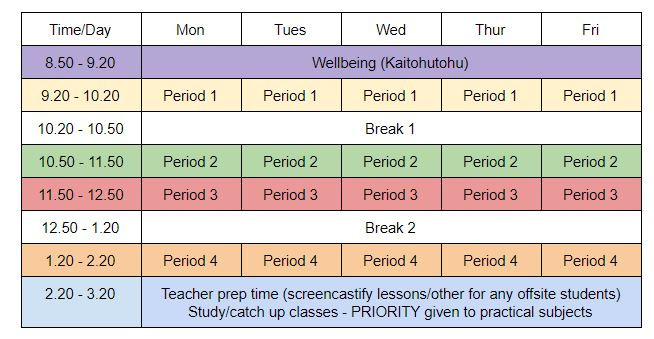 Monday 18 May - Changes to NCEA end of year exams to address the impact of COVID-19
The Ministry of Education and the New Zealand Qualifications Authority (NZQA) are making changes to NCEA this year in a two-step process designed to help reduce the impact of COVID-19.

The changes, effective immediately, are to:
delay external NCEA examinations and New Zealand Scholarship examinations so they start on 16 November instead of 6 November, allowing another week for teaching, learning and internal assessment in Term 4
extend the submission date for subjects that require students to submit a portfolio, such as Design and Visual Communication, from 28 October to 12 November 2020, giving students more time to prepare
waive the requirement for NZQA verification of Level 1 and 2 Visual Arts portfolios, allowing students more time to complete their portfolios and teachers more time for marking.
NCEA examinations will now finish on 9 December 2020. An amended exam timetable is available on the NZQA website
Friday 15 May - Reminder: School starts back again from next Monday, 18 May.
We have put together some FAQs for students.
Please see below for more info.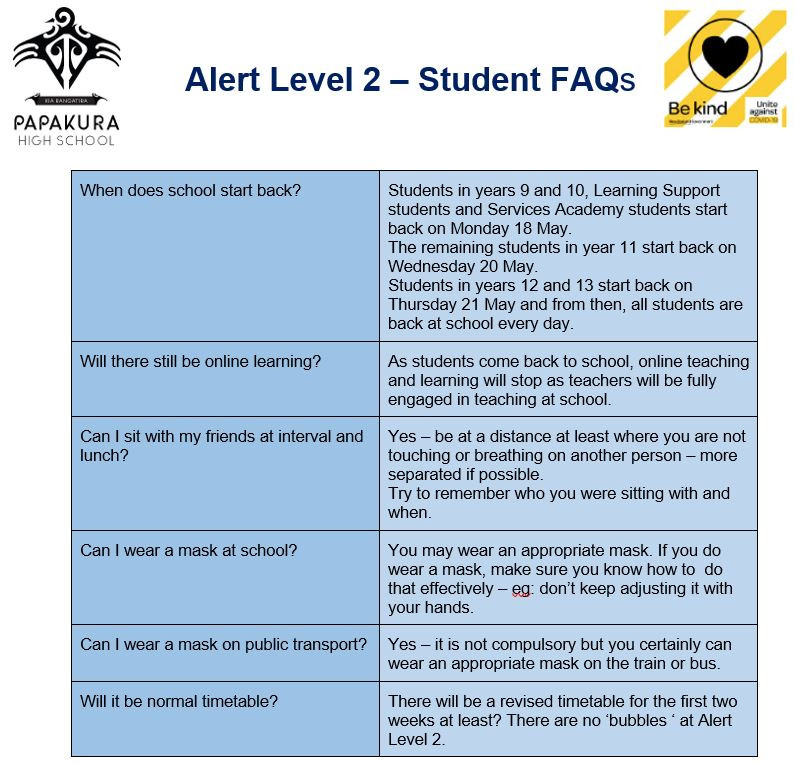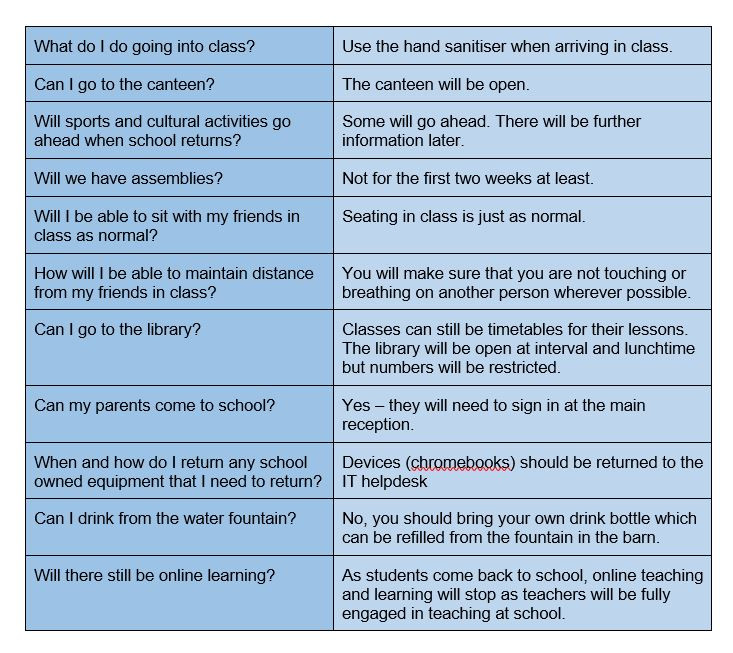 Have a good weekend and see you soon.
Thursday 14 May -
Tēnā koutou katoa, Malo e lelei, Talofa lava, Fakaalofa lahi atu, Kia orana, Namaste
Dear Parents/Caregivers
We are really looking forward to welcoming students back to school next week!
We will be working closely with all students as they return to school to ensure they feel comfortable and safe.
We will be having a staff only day at school tomorrow, Friday 15 May, to prepare for the return to school next week so there will be no online teaching and learning sessions tomorrow.
The Uniform Shop in Papakura is now open and they have a plentiful supply of both the black and green school jackets available. Here at school we have a supply of KidsCan jackets and shoes, and all students are expected to be in full school uniform when they return to school next week.
Students coming to school from next Monday will enter the school grounds via either the Alpha Street or Willis Road gates as there will be sanitiser stations at both these entrances. The Mansell Field gate will be closed so students cannot enter here.
Parents and caregivers dropping students off to school will need to do so at the school gates and will not be able to enter the school grounds.
The school canteen will be open from Monday. Students will not be able to leave the school grounds during the day unless they are going home sick.
As posted yesterday, we will be following a revised timetable for the next two weeks. Please see below.
Kia kaha!!
Wednesday 13 May - Timetable for Level 2
This will be in place for two weeks and will be reviewed after that.
Monday and Tuesday - Year 9 and Year 10, Learning Support students and Services Academy students in school. Online lessons for seniors

Wednesday - Year 11 will also be in school. Online lessons for Year 12 and Year 13

Thursday - all year levels in school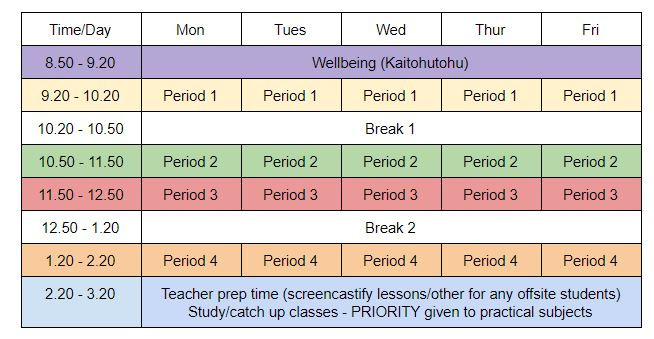 This timetable is modelled on the current KAMAR timetable, dropping Period 5 each day.

There are no assemblies or whanau sessions at this time.

2.20pm - 3.20pm is not a timetabled class. It has been prioritised for students in the practical subjects.

Senior Dance and Drama

Senior Music

Year 10 - Year 13 Hospitality

Art tbc

For students without a practical subject, they can go to their classes, as needed/requested, to engage in catch up work. Students who do not take advantage of this time will be going home at 2.20pm.
Tuesday 12 May -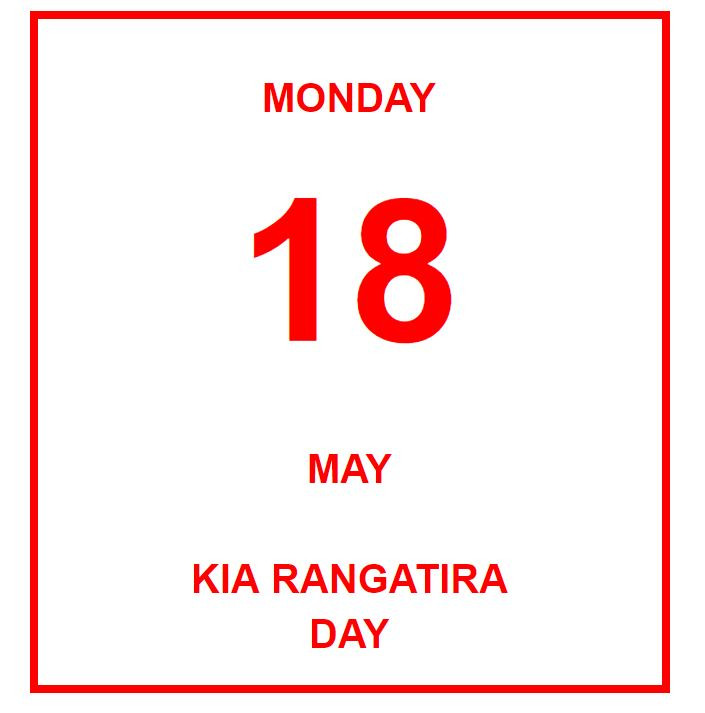 Tēnā koutou katoa, Malo e lelei, Talofa lava, Fakaalofa lahi atu, Kia orana, Namaste
Dear Parents/caregivers
As you have probably heard by now, New Zealand will be moving into COVID-19 Alert Level 2 at 11.59pm on Wednesday and schools will be reopening next Monday, 18 May.
In order to make the return to physical classroom sessions less stressful for all concerned, we will be staggering the return to school.
On Monday and Tuesday, students in years 9 and 10 will come to school, as well as students in the Services Academy and Learning Support.
On Wednesday students in years 9, 10 and 11 will be at school and from Thursday all students will be at school.
We will be operating under a modified timetable and school will finish early every day at around 2.30pm.
This will give us the chance to ensure our Return to School Health & Safety Action Plan functions fully.
We will be posting more detailed information over the next few days, so watch this space!
Thursday 7 May -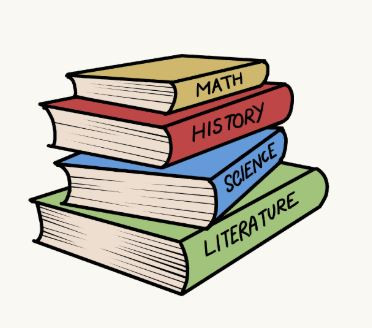 We still have written work available for students, ready for collection, for those who were unable to make it in to school yesterday.
Wednesday 6 May -
Tēnā koutou katoa, Malo e lelei, Talofa lava, Fakaalofa lahi atu, Kia orana, Namaste
Reminder that written work can be collected from the school today from 10am - 12pm.
Please come up the drive, wait by the flagpole (keeping 2m apart) and a member of staff will bring the work out to you.
Tuesday 5 May -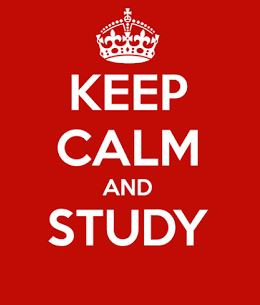 Reminder that those who have ordered hard copies of school work from school can collect them tomorrow, Wednesday 6 May, from 10am - 12pm
Monday 4 May -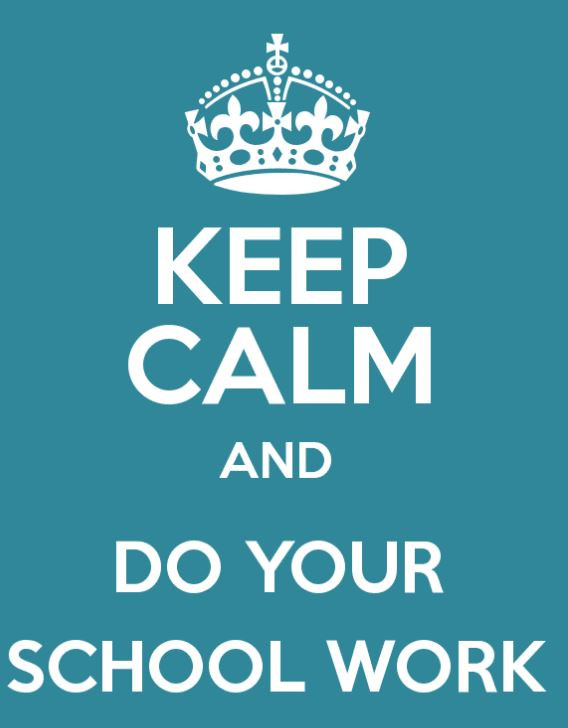 Tēnā koutou katoa, Malo e lelei, Talofa lava, Fakaalofa lahi atu, Kia orana, Namaste
On Wednesday 6 May we will have packs of written work available for collection from school for senior students (years 11, 12 and 13) as well as for those juniors who did not collect work last week. Please contact the school if you would like to order written work.
These packs are only for those students who are not able to participate in online teaching and learning.
Work will be available for collection from 10am - 12pm. Please come up the drive and wait by the flagpole, maintaining 2m social distancing. A member of staff will meet you and bring the work out to you.
COVID-19 Alert Levels Summary. Read more
General information about the COVID-19 virus can be found on the Ministry of Health website. Read more
Wednesday 29 April - Reminder that online lessons start again today - Schedule of lessons
Juniors (years 9 and 10): Written packs of work can be collected from the school tomorrow, Thursday 30 April, from 10am - 12pm. Please come up the drive to the flagpole, keeping 2m apart, and a member of staff will meet you and bring the packs of work to you.
Year 10 students: Term 1 Te Tohu Rangatira results have been finalised and you will receive a letter in the post in the next few days with all your points.
Senior students (years 11, 12 and 13): NCEA requirements are not changing for this year so you need to make sure you keep up with your school work.
Please contact us if you need written copies of work and have not yet let us know.
Take care and stay safe.
Tuesday 28 April - Reminder to register your child/children for school if they are in year 9 or year 10, you are an essential worker who is not working from home and there is no-one else at home to care for them. Can I send my children to school?
Monday 27 April - Keeping safe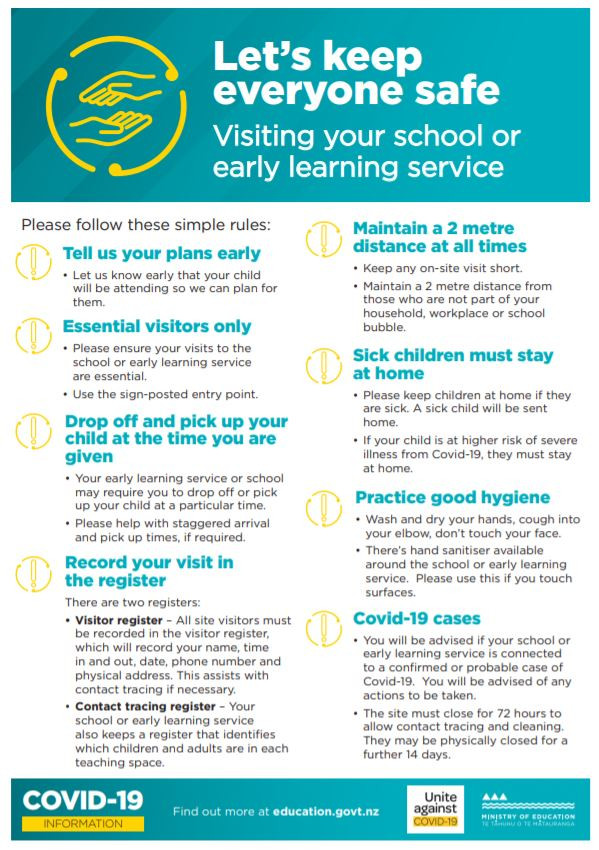 Sunday 26 April - Information to help with your planning for COVID-19 Alert Level 3. https://parents.education.govt.nz/…/information-to-help-wi…/
Wednesday 22 April - Can I send my children to school? Read more
Tuesday 21 April - Letter to parents/caregiver re moving into COVID-19 Alert Level 3. Read more
Monday 20 April - Online lessons will continue this week using the same schedule of lessons as last week. Read more
Thursday 16 April - Information for Pasifika families and communities - re-engaging of children with their teachers in various Pacific languages. https://learningfromhome.govt.nz/translations…
Thursday 16 April - How to create a google meet. https://www.facebook.com/183835288676555/videos/1608367109317454/
Wednesday 15 April - Home learning for students/whanau with no access to the internet and/or devices https://learningfromhome.govt.nz/
Tuesday 14 April - How to log on to google meets for online teaching and learning sessions. https://www.facebook.com/183835288676555/videos/2815522648568332/
Thursday 9 April - Schedule of lessons during lockdown
Thursday 9 April 2020 - Our Kaitiaki whānau (Head Prefects) share messages about getting ready for our first day back to school (online) next week. https://www.facebook.com/183835288676555/videos/149795343109834/