Welcome to Papakura High School
The Papakura High School Board of Trustees has determined that a further out-of-zone ballot will be held on Tuesday 8 March, four weeks from today.
There are a total of 76 out-of-zone places available at all year levels.
Applications for this ballot are now open. If you would like to apply for an out-of-zone place for your child/tamariki, please call in at the school for an application pack, or download the application forms.
Applications for the ballot will close at 4pm on Monday 7 March and we will not be accepting out-of-zone applications after this date.
If you have any further queries, please do not hesitate to contact me.
Ngā Mihi
Kind Regards
Faith Meikle
Enrolment Officer
(09) 296 4400 extension 1508
Papakura High School Enrolment Scheme Update
The Ministry of Education has required Papakura High School to have an enrolment scheme, part of which is an enrolment zone. Any students whose normal place of residence is within the zone is entitled to enrol at Papakura High School. If you live outside of this area, you will need to go through an out-of-zone enrolment process. Priority will be given to students enrolling in our Rūmaki programme, followed by siblings of current students, former students, children of former students and staff. The Board determines how many out-of-zone places are available at Papakura High School. We welcome your application for an out of zone place at our school.
Please read the information and then download and complete the required forms on our Enrolment Information page
Written description of the Papakura High School Enrolment Zone
Map of the Papakura High School Enrolment Zone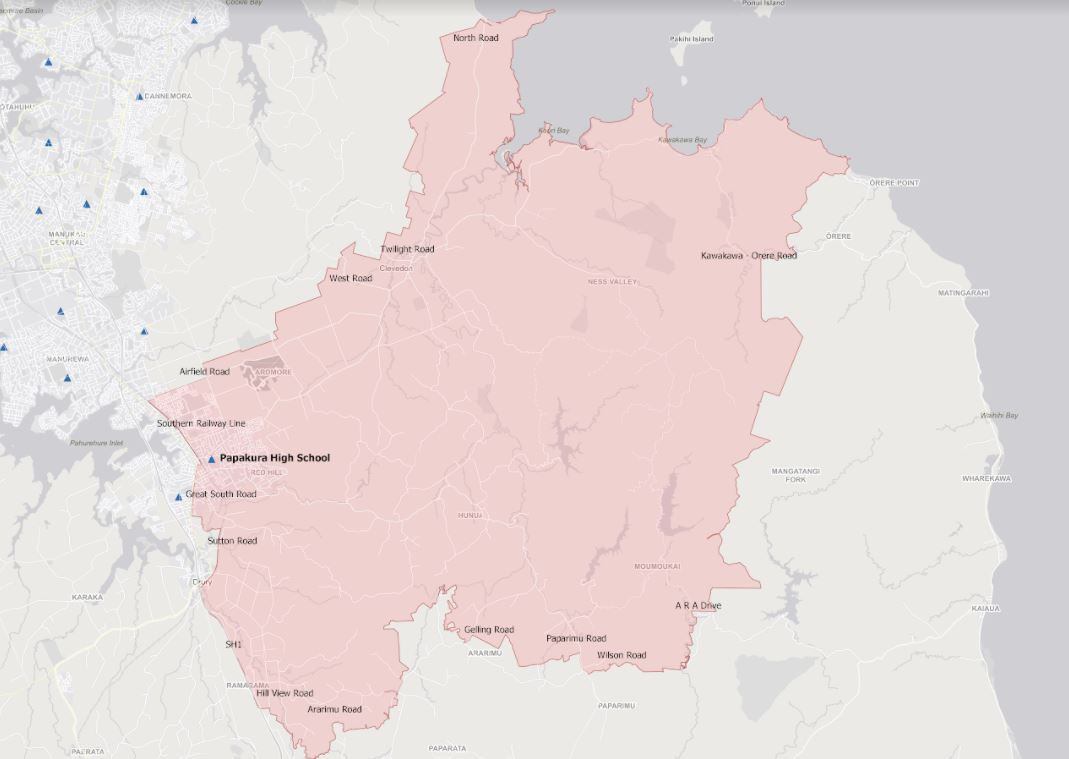 Enrolment Information
Enrolment Officer
Miss Faith Meikle
09 295 1508
Enrolment Packs can be collected from Reception during School Hours.
Papakura High School Booklet - Our School

Greetings, Kia ora, Talofa lava, Malo e lelei, Kia orana, Fakaalofa lahi autu, Namaste,
Thank you for choosing Papakura High School. We feel privileged that you are entrusting us with your child's secondary education.
We aim to make the transition from Primary to Secondary as easy as possible and welcome you into our school family. We have a strong focus on pathways at our school, preparing students for employment when they leave us, either via tertiary study or straight into jobs. We work with businesses and other partners to give our students the best opportunities.
We offer a wide range of activities outside the classroom and we are proud of our success with cultural activities and sports. We have had many representatives in local and national sports teams. I am especially proud of our many ex-students who graduate successfully from University or enter employment.
We aim to prepare your child for tertiary education and employment. Papakura High School is a school within the Kootuitui Trust. This means that your child may be engaged with all their learning at school using a digital device. Here at Papakura High School our students use Chromebooks.
Children are the centre of teaching and learning and we aim to share with you the journey into making your child a connected, confident, responsible and life-long learner.
If you have any questions please contact Ms Lisa Mortimer, Deputy Principal on 09 296 4400 extension 1517 or [email protected].nz
We look forward to developing a strong partnership between you, your child and ourselves so that your son or daughter is proud to be a member of the Papakura High School Community.