Alumni
Alumni - Papakura High School
Thank you for your interest in Papakura High School.
If you wish to register on our database please click here
We have been sent this photo of the PHS Cricket Team - from 1959.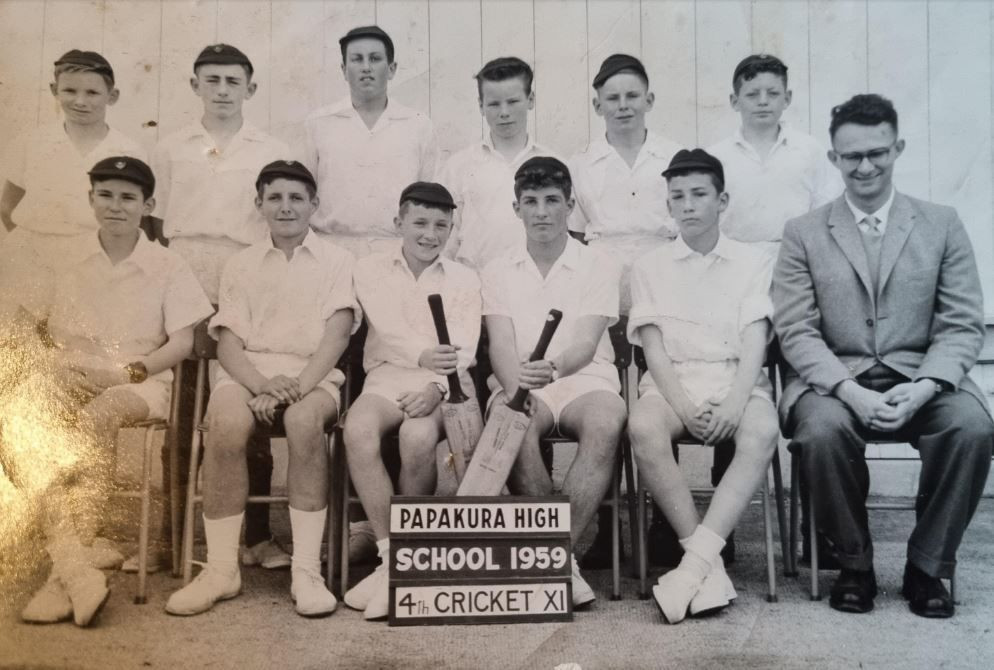 If you know who any of the others in the photo are, please contact us, we would love to hear from you!
Newsletters
Historical School Magazines
2019 - School Magazine (Part 1) and (Part 2) 1954 - 1979 25yr Silver Jubilee Magazine
2014 - School Magazine (Part1) and (Part 2) 1954 - 1994 40yr Jubilee Magazine
2013 - School Magazine (Part1) and (Part 2) 1954 - 2004 50yr Jubilee Mag (Part 1), (Part 2)
2012 - School Magazine (Part 1), (Part 2) and (Part 3)
2011 - School Magazine (Part 1) and (Part 2)
2010 - School Magazine (P1),(P2),(P3), (P4) and (P5)
2009 - School Magazine (Part 1), (Part 2)and (Part 3) 1999 - School Magazine (Part 1) and (Part 2)
2008 - School Magazine (Part 1), (Part 2) and (Part 3) 1998 - School Magazine
2007 - School Magazine (Part 1) and (Part 2) 1997 - School Magazine (Part 1) and (Part 2)
2006 - School Magazine (Part 1) and (Part 2) 1996 - School Magazine (Part 1) and (Part 2)
2005 - School Magazine (part 1) and (Part 2) 1995 - School Magazine
2004 - School Magazine (Part 1) and (Part 2) 1994 - School Magazine (Part 1) and (Part 2)
2003 - School Magazine (Part 1) and (Part 2) 1993 - School Magazine (Part 1) and (Part 2)
2002 - School Magazine 1992 - School Magazine (Part 1) and (Part 2)
2001 - School Magazine 1991 - School Magazine
2000 - School Magazine 1990 - School Magazine (Part 1) and (Part 2)
1999 - School Magazine 1979 - School Magazine (Part 1) and (Part 2)
1988 - School Magazine 1978 - School Magazine (Part 1) and (Part 2)
1987 - School Magazine 1977 - School Magazine
1986 - School Magazine 1976 - School Magazine
1985 - School Magazine (Part 1) and (Part 2) 1975 - School Magazine
1984 - School Magazine 1974 - School Magazine
1983 - School Magazine 1973 - School Magazine
1982 - School Magazine 1972 - School Magazine
1981 - School Magazine (Part 1) and (Part 2) 1971 - School Magazine
1980 - School Magazine 1970 - School Magazine
1969 - School Magazine 1959 - School Magazine
1968 - School Magazine 1958 - School Magazine
1967 - School Magazine 1957 - School Magazine
1966 - School Magazine 1956 - School Magazine
1965 - School Magazine 1955 - School Magazine
1964 - School Magazine 1954 - School Magazine